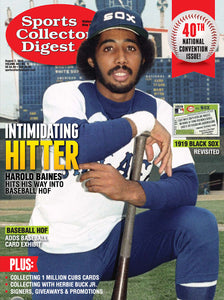 2019 Sports Collectors Digest Digital Issue No. 15, August 2
Regular price
$4.99
$0.00
Unit price
per
Sports Collectors Digest, the most respected sports collectibles magazine in the hobby, keeps you informed about every aspect of sports collecting, including trading cards, memorabilia, autographs, online auctions, grading, and authentication. Each issue includes information and insight on the latest news and trends from some of the most respected experts in the hobby, as well as athlete interviews, auction coverage, stories about collectors, reviews of new releases and vintage and modern sets, offbeat collectibles, and more. 
In this issue:
- Beau Thompson is on a quest to collect 1 million Chicago Cubs baseball cards 
- Modern-day treasure hunting: Tips on how collectors can be the next to make the latest hobby find
- The second series of 1961 Fleer Baseball cards is filled with relatively unknown players 
- Say it aint so, Joe: A look at Black Sox collectibles on the 100 year anniversary of the 1919 White Sox team 
- Overcoming the pain: Ron Kittle overcame many obstacles to power himself into the major leagues 
- Baseball HOF celebrates 100th anniversary of American Legion and youth baseball 
- Can I have your autograph? A preview of the autograph pavilion at this year's National 
- National Convention readies for 40th run 
- National to invade Chicago: The National Convention has appeared in Chicago the most times of any city 
- Hall of Fame material: Harold Baines used his bat to pave a way to the Baseball Hall of Fame 
- Herbie Buck Jr. has accumulated a massive collection of Yankees collectibles 
- There are plenty of Chris Chelios collectibles for collectors to chase after 
- Shoebox Treasures exhibit showcases baseball cards at the Baseball HOF 
- New Releases: Football is in the air
- Online Auctioneer: Vladimir Guerrero Jr. and Cavan Biggio, sons of former major leaguers, have the attention of collectors. 
- Departments: Leading Off, Auction Coverage, Baseball Art, Industry News, Show Calendar
---