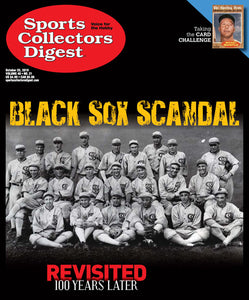 2019 Sports Collectors Digest Digital Issue No. 21, October 25
Regular price
$4.99
$0.00
Unit price
per
Sports Collectors Digest, the most respected sports collectibles magazine in the hobby, keeps you informed about every aspect of sports collecting, including trading cards, memorabilia, autographs, online auctions, grading, and authentication. Each issue includes information and insight on the latest news and trends from some of the most respected experts in the hobby, as well as athlete interviews, auction coverage, stories about collectors, reviews of new releases and vintage and modern sets, offbeat collectibles, and more. 
In this issue:
- Black Sox Scandal: After 100 years, the black eye of baseball remains a contested story 
- Dribbling down memory lane: Matt Bullard reflects on his NBA career with the Houston Rockets and 'The Dream' 
- Taking the card challenge: Writer picks his favorite 10 players and baseball cards. What are yours? 
- A perfect role model: Adrian Clayborn overcomes Erb's palsy, wins Super Bowl, and inspires kids afflicted with same disease 
- 'Just glad to be here': Barry Sanders carried an inherent attitude from parents to greatness 
- New Releases: Topps Clearly Authentic and Upper Deck Clear Cut highlight new baseball, hockey sets
- Online Auctioneer: Remembering the Amazin' Mets of 1969 and discovering how friendly their memorabilia is on your wallet
- Departments: Leading Off, Auction Coverage, Baseball Art, Industry News, Show Calendar
---