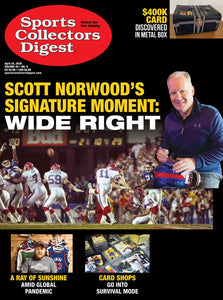 2020 Sports Collectors Digest Digital Issue No. 09, April 24
Regular price
$4.99
$0.00
Unit price
per
Sports Collectors Digest, the most respected sports collectibles magazine in the hobby, keeps you informed about every aspect of sports collecting, including trading cards, memorabilia, autographs, online auctions, grading, and authentication. Each issue includes information and insight on the latest news and trends from some of the most respected experts in the hobby, as well as athlete interviews, auction coverage, stories about collectors, reviews of new releases and vintage and modern sets, offbeat collectibles, and more. 
In this issue:
- 'Wide Right' Becomes Signature Moment: Missing last-second field goal in Super Bowl loss doesn't define Scott Norwood
- Card Shops Turn to Online Business: Owners of card and memorabilia shops around the country are in survival mode 
- 1964 Topps Coins Still Carry a Tune: Will you still select me, will you still collect me when I'm a coin from '64? 
- Catching up with Hobbyists: Irv Lerner, Jim Nowell, Len Brown and a Nagurski print 
- $400K Baseball Card Discovered in Metal Box 
- Tradition of Cranston Show Lives On: Event survives and prospers for more than four decades 
- Leading Off: A ray of sunshine amid darkness of coronavirus
- New Releases: Stars and rookies shine in Bowman Baseball
- Online Auctioneer: To start a new collection, be adventurous
- Departments: Auction Coverage, Baseball Art, Industry News, Show Calendar
---