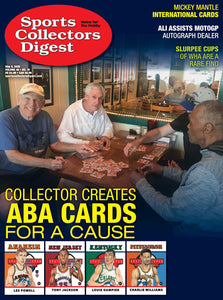 2020 Sports Collectors Digest Digital Issue No. 10, May 8
Regular price
$4.99
$0.00
Unit price
per
Sports Collectors Digest, the most respected sports collectibles magazine in the hobby, keeps you informed about every aspect of sports collecting, including trading cards, memorabilia, autographs, online auctions, grading, and authentication. Each issue includes information and insight on the latest news and trends from some of the most respected experts in the hobby, as well as athlete interviews, auction coverage, stories about collectors, reviews of new releases and vintage and modern sets, offbeat collectibles, and more. 
In this issue:
- Man Cave or Museum? Collector packs basement full of stadium memorabilia 
- Sammy C's Rock N' Sports Pub & Grille in New Mexico is Mecca for Sports and Music Fans 
- Collector Creates ABA Card Set: Limited edition set benefits players in financial need 
- Before the Shutdown: Fans of Cubs, White Sox and Brewers enjoy team conventions 
- International Mickey Mantle Cards: What the cards of the Yankees great looked like abroad
- Dealer Packs a Credibility Punch with Ali: Boxer lays the foundation for premier autograph dealer Autographed Collectables
- Herb Washington: A profile of an MLB 'designated runner' 
- Leading Off: Remembering Al Kaline
- New Releases: Hall of Fame Edition debuts with Topps Transcendent Baseball brand
- Online Auctioneer: Kaline, Wynn and Beckert, R.I.P.
- Departments: Auction Coverage, Baseball Art, Industry News, Show Calendar
---