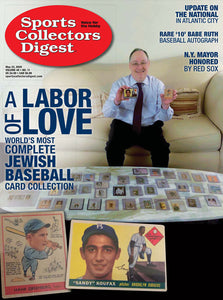 2020 Sports Collectors Digest Digital Issue No. 11, May 22
Regular price
$4.99
$0.00
Unit price
per
Sports Collectors Digest, the most respected sports collectibles magazine in the hobby, keeps you informed about every aspect of sports collecting, including trading cards, memorabilia, autographs, online auctions, grading, and authentication. Each issue includes information and insight on the latest news and trends from some of the most respected experts in the hobby, as well as athlete interviews, auction coverage, stories about collectors, reviews of new releases and vintage and modern sets, offbeat collectibles, and more. 
In this issue:
- An Update on The National: Will the National Sports Collectors Convention in Atlantic City go on as planned? 
- Rare '10' Babe Ruth Baseball Autograph: The story behind the ball with the perfect Bambino auto that is going to auction 
- From Old-Timers to Social Distancing: Reflecting on hobby news and contacts with other collectors during these difficult times 
- A Labor of Love: Seymour Stoll built the world's most complete Jewish baseball card collection 
- 1955 Topps All American Football Cards: Examining the short prints of the iconic football set 
- New York mayor Honored by Red Sox: Bob Blais threw out the first pitch at a Red Sox game last year 
- Leading Off: Do you protect your collectibles?
- New Releases: Court Kings release unique among NBA cards
- Online Auctioneer: You can take Joe Burrows to the bank
- Departments: Auction Coverage, Baseball Art, Industry News, Show Calendar
---