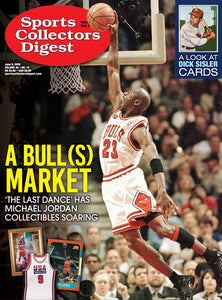 2020 Sports Collectors Digest Digital Issue No. 12, June 5
Regular price
$4.99
$0.00
Unit price
per
Sports Collectors Digest, the most respected sports collectibles magazine in the hobby, keeps you informed about every aspect of sports collecting, including trading cards, memorabilia, autographs, online auctions, grading, and authentication. Each issue includes information and insight on the latest news and trends from some of the most respected experts in the hobby, as well as athlete interviews, auction coverage, stories about collectors, reviews of new releases and vintage and modern sets, offbeat collectibles, and more. 
In this issue:
- Son of the Great George Sisler: The story behind Dick Sisler's cards shows he eventually made a name for himself 
- A Bull(s) Market: ESPN's documentary 'The Last Dance' has Michael Jordan collectibles soaring 
- Nike Poster Cards: Offbeat Beat examines these unique collectibles that are a Michael Jordan treasure trove 
- Update on The National: National Sports Collectors Convention officials decide to reschedule summer event 
- Finding the Holy Grail of Pete Rose Collectibles: Collector discovers the revered 1982 FBI (Fanta Beverage Inc.) disc, but it eludes him
- Leading Off: Babe Ruth, Lou Gehrig signed baseball heads to auction
- New Releases: Big League Baseball influenced by fan-favorite sets
- Online Auctioneer: Vintage baseball;; programs, anyone?
- Departments: Auction Coverage, Baseball Art, Industry News, Show Calendar
---