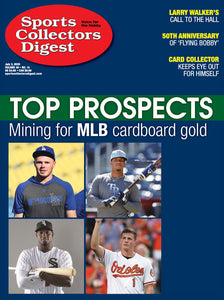 2020 Sports Collectors Digest Digital issue No. 14, July 3
Regular price
$4.99
$0.00
Unit price
per
Sports Collectors Digest, the most respected sports collectibles magazine in the hobby, keeps you informed about every aspect of sports collecting, including trading cards, memorabilia, autographs, online auctions, grading, and authentication. Each issue includes information and insight on the latest news and trends from some of the most respected experts in the hobby, as well as athlete interviews, auction coverage, stories about collectors, reviews of new releases and vintage and modern sets, offbeat collectibles, and more. 
In this issue:
- Careers of Hockey greats Orr and Shore Draw Parallels
- Second Canadian Gets Call from the Hall: Larry Walker dreamed of playing pro hockey but wound up becoming an MLB star 
- Card Collector Keeps Eye Out for...himself: Kansas City Royals prospect Daniel Tillo seeks to collect all colored parallels of 
Bowman Draft products of himself 
- Top MLB Prospects: Who will be the next Mike Trout and Ronald Acuna Jr. as collectors mine for cardboard gold? 
- New Book Celebrates World Series Champs: SCD artist Ronnie Joyner produces bio-illustration book of the 2019 Washington Nations 
- Leading Off: Backboard sells at auction for $18K, but it's not just any backboard
- New Releases: Topps Pro Debut Baseball highlights up-and-comers
- Online Auctioneer: Willie Stargell and Willie Horton 1970 cards that graded perfect 10s
- Departments: Auction Coverage, Baseball Art, Industry News, Show Calendar
---