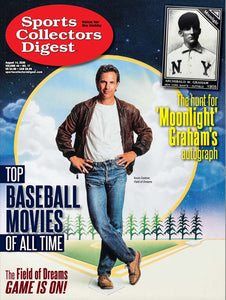 2020 Sports Collectors Digest Digital Issue No. 17, August 14
Regular price
$4.99
$0.00
Unit price
per
Sports Collectors Digest, the most respected sports collectibles magazine in the hobby, keeps you informed about every aspect of sports collecting, including trading cards, memorabilia, autographs, online auctions, grading, and authentication. Each issue includes information and insight on the latest news and trends from some of the most respected experts in the hobby, as well as athlete interviews, auction coverage, stories about collectors, reviews of new releases and vintage and modern sets, offbeat collectibles, and more. 
In this issue:
- LeBron James Rookie Card Sets Record: The 2003-04 Upper Deck Exquisite card fetches highest price for a modern-day sports card 
- Top Baseball Movies of All Time: Ranking the best films made of our national pastime 
- The hunt for 'Moonlight' Graham's Autograph: Collector searched 17 years for the signature of a player who gained notoriety in Field of Dreams
- Baseball in the Land of Enchantment: Players from the Black Sox Scandal resumed playing in New Mexico where 'outlaw baseball' originated 
- Leading Off: The Field of Dreams Game in on!
- New Releases: Topps sterling baseball returns after 10-year hiatus
- Online Auctioneer: Rare Ty Cobb postcard draws interest
- Departments: Auction Coverage, Baseball Art, Industry News, Show Calendar
---