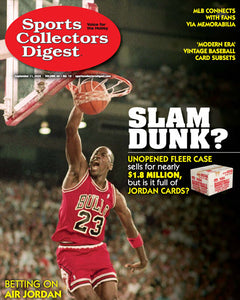 2020 Sports Collectors Digest Digital Issue No. 19, September 11
Regular price
$4.99
$0.00
Unit price
per
Sports Collectors Digest, the most respected sports collectibles magazine in the hobby, keeps you informed about every aspect of sports collecting, including trading cards, memorabilia, autographs, online auctions, grading, and authentication. Each issue includes information and insight on the latest news and trends from some of the most respected experts in the hobby, as well as athlete interviews, auction coverage, stories about collectors, reviews of new releases and vintage and modern sets, offbeat collectibles, and more. 
In this issue:
- 'Modern Era' Vintage Baseball Card Subsets Examined: A look at Topps cards from 1969 through 1980 
- Unopened Opportunities: A sealed 1986-87 Fleer Basketball case sold for nearly $1.8 million, but how many Jordans does it have? 
- Connecting Baseball Fans to Game-Used Memorabilia 
- Virtual Events Fill Hole Left By The National 
- Leading Off: A unique auction for a unique NBA season 
- New Releases: Autographs highlighted in new opening from Topps
- Online Auctioneer: Mays Vs. Mantle, then and now
- Departments: Auction Coverage, Baseball Art, Industry News, Show Calendar
---