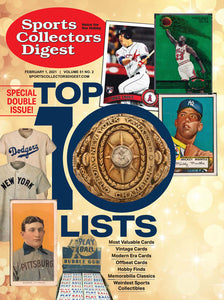 2021 Sports Collectors Digest Digital Issue No. 02, February 1
Regular price
$4.99
$0.00
Unit price
per
Sports Collectors Digest, the most respected sports collectibles magazine in the hobby, keeps you informed about every aspect of sports collecting, including trading cards, memorabilia, autographs, online auctions, grading, and authentication. Each issue includes information and insight on the latest news and trends from some of the most respected experts in the hobby, as well as athlete interviews, auction coverage, stories about collectors, reviews of new releases and vintage and modern sets, offbeat collectibles, and more.
In this issue:
- Top 10 Lists: Most valuable cards, vintage cards, modern-era cards, offbeat cards, memorabilia classics, weirdest sports cards
- Part 2 of SCD's Special Investigation Into Forgery
- Act of Kindness: Johnny Bench's friend buys his auction items, then returns them to him
- Are Your Sports Collectibles Insured?
- Dick Perez: The Diamond King of baseball artists
- Leading Off: Instant card grading with AI? Yeah, it's a thing
- New Releases: Topps celebrates 70th anniversary in Baseball Series 1
- Online Auctioneer: A look back at 2020
- Wayne Gretzky Rookie Card Sells For Record $1.29 Million
- Departments: Auction Coverage, Baseball Art, Industry News, Obituaries, Show Calendar
---