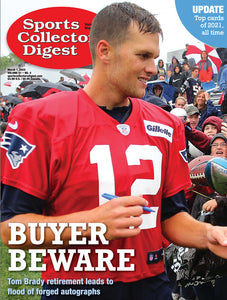 2022 Sports Collectors Digest Digital Issue No. 04, March 1
Regular price
$4.99
$0.00
Unit price
per
Sports Collectors Digest, the most respected sports collectibles magazine in the hobby, keeps you informed about every aspect of sports collecting, including trading cards, memorabilia, autographs, online auctions, grading, and authentication. Each issue includes information and insight on the latest news and trends from some of the most respected experts in the hobby, as well as athlete interviews, auction coverage, stories about collectors, reviews of new releases and vintage and modern sets, offbeat collectibles, and more. 
In this issue:
- Buyer Beware: Tom Brady retirement leads to flood of forged autographs
- Online auction sales reached crazy heights in 2021: We break down the top cards and the 40 biggest sales of the year
- Cardboard Gold: Of the top 10 selling sports cards of all time, the top six and eight of the top 10 records were broken last year. But a familiar card still sits on top. 
- eBay Guarantee: Bay's new authentication program is designed to protect buyers and sellers and give collectors more confidence in the online marketplace. 
- Leading Off: Historic Jackie Robinson document a valuable offering
- Online Auctioneer: Super Bowl LVI sparks demand for rare tickets, memorabilia
- Departments: Auction Coverage, Baseball Art, Show Calendar
---