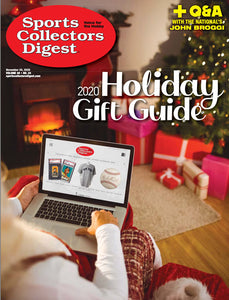 2020 Sports Collectors Digest Digital Issue No. 24, November 20
Regular price
$4.99
$0.00
Unit price
per
Sports Collectors Digest, the most respected sports collectibles magazine in the hobby, keeps you informed about every aspect of sports collecting, including trading cards, memorabilia, autographs, online auctions, grading, and authentication. Each issue includes information and insight on the latest news and trends from some of the most respected experts in the hobby, as well as athlete interviews, auction coverage, stories about collectors, reviews of new releases and vintage and modern sets, offbeat collectibles, and more. 
In this issue:
- A Q&A with The National's John Broggi: Executive director talks about the cancellation of the 2020 show and addresses future shows 
- CCG hires sports card experts to lead card-grading service 
- Lelands Acquires Brown Brothers: Collectors will be able to buy prints and one-of-a-kind negatives from this historic archive for the first time 
- SCD's annual Holiday Gift Guide
- Collecting Autographs Through the Mail: Retired athletes are some of the best signers in all of sports
- Ageless Arm: A age 56 as a hired gun, Rodney Tafoya pursues 500th pitching victory 
- Leading Off: Remembering Whitey Ford and Joe Morgan 
- New Releases: 
- Online Auctioneer: Collecting Ironmen Lou Gehrig and Cal Ripken Jr. 
- Departments: Auction Coverage, Baseball Art, Industry News, Show Calendar
---